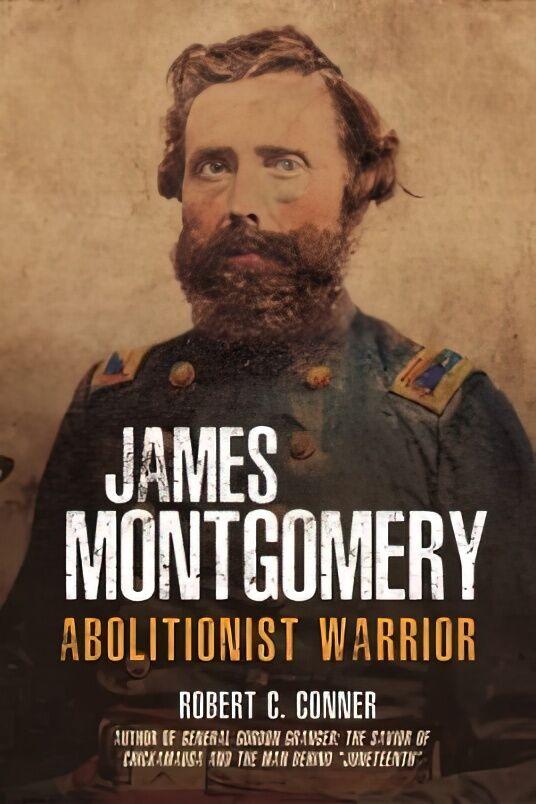 By Robert C. Conner, Illustrated, Bibliography, Index, Casemate Publishers, www.casematepublishers.com, 2022, 210 pp., hardcover, $34.95.
Reviewed by Wayne Wolf
Robert Conner pens a fairly objective biography of James Montgomery, the abolitionist Colonel demonized for burning Darien, Ga., in the movie Glory. Known as the "fighting preacher" and the "Guerrilla Chieftain," Montgomery believed a Civil War to free slaves was both inevitable and justified.
An ardent abolitionist, he fashioned himself the leader of civil and military affairs in southeast Kansas, where he and his family lived in what was dubbed Fort Montgomery. He had some justification for fortifying his home as jayhawkers frequently raided homes during and prior to the Civil War.  Montgomery used some  atrocities perpetrated by these border ruffians to justify his depredations against Confederate sympathizers and Southern homes, mills, crops, and barns. Thus, he felt authorized to execute five persons near Morristown, Mo., in 1861 in retribution for jayhawker attacks on Union homes.
Montgomery's war record was equally controversial. He was one of the early officers to lead black troops, actively recruited them, and frequently led raids behind enemy lines to encourage slaves to desert plantations, an attribute of economic warfare he felt would cripple the South's capacity to wage war. In one of his most successful raids near the Combahee River, he freed over 756 slaves but was also censured for burning civilian homes. As commander of the 2nd South Carolina Volunteer Infantry, he summarily shot a soldier for desertion without the formality of a court martial. Militarily, however, he was generally praised by his superiors for bravery under fire, shaping his black soldiers into cohesive fighting units, and leading them personally in major engagements at Westport and Olustee, as well as numerous forays against Gen. Sterling Price's campaign to secure Missouri for the Confederacy.  
He resigned his commission in September 1864 due to ill health but rejoined militia units after a short absence as a colonel of troops trying to drive Confederates out of Kansas and Northwestern Missouri. He then returned to his farm in Linn County and raised crops while preaching on the weekends for the First Day Adventist Church. He was, by all accounts, a charismatic preacher who drew people to his sermons as he had drawn soldiers to enlist to end slavery.
The author is objective in pointing out atrocities perpetrated by Montgomery as well as how his virulent abolitionist views overtook his moral judgment and his abrogation of civilized rules of warfare. If the historian wishes to read a biography of a radical abolitionist who placed his own views above morality and decency, this book will be appealing. It is well researched, readable, and historically accurate.
Dr. Wayne L. Wolf is Professor Emeritus a South Suburban College, past president of the Lincoln-Davis Civil War Roundtable, and the author of numerous books and articles on the Civil War and the common soldier.
Want to subscribe to Civil War News or the Military Antique Collector magazine? Click here to go to that page.