Periodically we are challenged to come up with an article which addresses a topic off the beaten path. This time we are going to take a look at some lesser-known Southern memoirs and attempt to keep the list of works to those written by non-senior officers. Having set the criteria, we needed to come up with a few titles to start with, so this listing is in no order of preference or importance but rather just as they came to mind while sitting at a military show when customers were not browsing, buying, or asking questions. The following list is books that provide insight into some element of the war from a more personal and limited perspective and provide an enjoyable read. While we are recommending that you read some of these memoirs, you should be aware that, when looking at writers in lower levels of a military organization, their knowledge and perspective will be limited to the immediate area they witnessed. So, if during your reading you experience what appears to be exceptional insight and analysis, be aware of when the book was published and what the author was basing his memoir on because they may be using information not available when the event occurred. Don't let this dissuade you from an enjoyable read; just realize you are benefiting from an evolving level of information the author was using that came available after the war. With that we are going to start with an interesting book that does not actually fit into being a memoir, but will provide readers an excellent example of what was witnessed and written about at the time of the events presented. This book shows how original beliefs are altered over time and, with the addition of other resources, somewhat changes the original knowledge reported at the time.
The first book is by J. Keith Jones, Echoes from Gettysburg: Georgia's Memories and Images. This book, published in 2013, was reissued in 2020 with an expansion of images and maps but the text really wasn't expanded. The reason we are recommending this book is that the reader will witness how perceptions change over time and are influenced by outside forces. The author found letters from most Georgia regiments involved in the Gettysburg Campaign and battle that were published shortly after the event in the local papers. He then provides follow-up writing about the same event in the Southern Historical Magazine that, in many ways either contradicts or changes the emphasis of the earlier documents. An added benefit is that the author including disagreements of memory between regimental members. For readers interested in the Georgia regiments at Gettysburg it is a worthwhile read. For individuals who are not as familiar with the challenges associated with primary source writing, this book should both whet your appetite as well as provide an appreciation for the evolution of perception over the times in which the primary writers were living.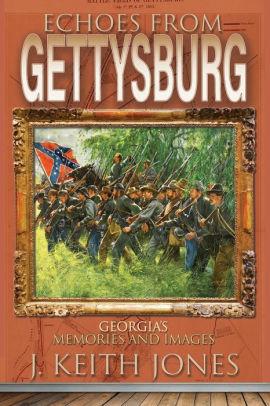 Our favorite book on Hood's Texas Brigade, and one that most people seem not to have read, is Rags and Hope. The Recollections of Val C. Giles, Four Years with Hood's Texas Brigade, Fourth Texas Infantry, 1861–1865, Edited by Mary Lasswell and published by Coward-McCann in 1961. This is a charming, very well-written book, with a rare sense of humor at times; it is a surprise that the manuscript was not published earlier. It details and personalizes the crucial battles from the Seven Days through Chickamauga, focusing on the Texans who marched from Austin to Richmond in 1862. Giles eventually made sergeant, was captured, and sent to Camp Morton, Ind., and then managed to escape. He died near Austin in 1915. His wartime diary was discovered and eventually published by Mary Lasswell, resulting in the creation of one of the best personal recollections of the Civil War by a soldier either North or South. Though somewhat hard to find, this work is highly recommended as a valuable book that should be in every Civil War Library.
Robert Stiles, Four Years Under Marse Robert has long been considered an excellent read on the common solider. Stiles was born in Kentucky, educated in New England, and after graduating moved to Richmond and became captivated by the south. A strong Unionist, when the war broke out he felt obligated to fight for the south.
His writing style moves along with apt descriptions of the major battles especially during the 1864–1865 period. He also gives the reader looks into everyday life and the simpler pleasures of camp life. He does not spare the reader some horrors of war when he describes decaying corpses of the previous day's battle when the fighting continues. Additionally, there is an underlying religious commentary that will appear in many of these writings especially after the initial two years of conflict. The book is an entertaining and informative memoir. Appearing initially in 1903 with a first and second edition published that year, it continued to sell well for many years with a third printing in 1910. There were two additional printings in 1977 and 1988 as the book was recognized by Richard B. Harwell in his In Tall Cotton as one of the top 200 Most Important Confederate Books.
Our next book is James Dinkins, 1861 to 1865, by an Old Johnnie; Personal Recollections and Experiences in the Confederate Army. Dinkins enlisted at the age of 16 and was promoted from enlisted to a Captain at a young age. He experienced the war in both major theaters, beginning in the East. His observations, especially during the Peninsular Campaign, make the book well worth reading. He participated in over 27 battles so the book covers the full length of experiences associated with a solder. He served under some noteworthy commanders including Joseph Johnston and Nathan Bedford Forrest. This book only had two printings, the initial one in 1903 and a 1975 reprint, but as with most (if not all) the books being mentioned in this article, they can be found on line in digital format. This book is also a must read Confederate memoir.
From the Rapidan to Richmond by William M. Dame is a collection of human interest stories of Dame's career as a member of the Army of Northern Virginia with the Richmond Howitzers. The author enlisted at the age of 16 and was a Number 1 on the battery's fourth gun. The book was originally published in 1920, well over 55 years after the war, and after a career as an Episcopal rector which makes the first-hand detail and accuracy a little questionable. That said, the author will reminisced about building camp quarters, to associated camp duties and recreation. Additionally, the book focuses on the war from the winter of 1863 to the end so, while a wonderful read, it should be understood that the facts presented are not actually based on original documents by rather the author's memory. Finding a first edition of this book can be a challenge but it was reprinted in 1987 and is worth the reader's time.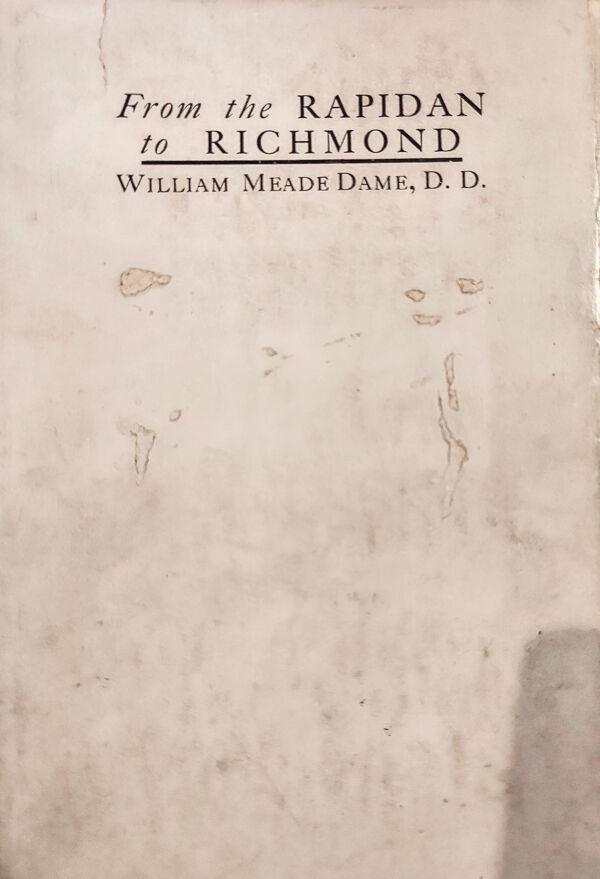 John C. West, A Texan in Search of a Fight, Being the Diary and Letters of a Private Soldier. As the complete title states, and we do love this title(!), this book comes directly from two primary sources, a personal diary and the letters sent to his wife and others back home. While not appearing in print until 1901, the author using his own period sources helps to make his effort an enjoyable and informative read.
West had a terrible time getting into the war because he was a District Attorney and, while enlisting both in 1861 and 1862, it was not until the spring of 1863 that he actually got enrolled as a private in the 4th Texas Infantry. He detailed his trip from Texas to the Army of Northern Virginia and then all the activity in which Hood's Texas Brigade was involved. He got another deferment from the military with its associated discharge about a year later and returned to Texas.
He is also very truthful about the causes of the war and is not as influenced by some of the Lost Cause rhetoric as were other authors of his time. The book was reprinted about 1969 and is well worth the effort to find for worthwhile read.
George M. Neese's 3 Years in the Confederate Horse Artillery is based on his personal diary providing everyday experiences of the common fighting man. Neese's account focused on the Shenandoah Valley and, while his unit occasionally served with the Army of Northern Virginia during the latter half of 1862 and part of 1864, most of his entries deal with the soldier's life in the Valley and surrounding country. His section on Trevilian Station in June 1864 is particularly noteworthy. His military service was cut short toward the end of 1864 when he was captured and sent to Point Lookout and not released until June 1865. This book was initially printed in 1911; two more recent printings came 1983 and 1988. It is an enjoyable and rewarding read based on personal observations of events he witnessed.
Luther W. Hopkins, From Bull Run to Appomattox; A Boys View, is the war reminisces of a member of the 6th Virginia Regiment in Stuart's Cavalry. Beginning at the age of seventeen, Hopkins was actively involved with the Army of Northern Virginia cavalry campaigns. He shares his first-hand combat experiences in addition to being twice captured and imprisoned. He experienced the loss of his brothers and friends due to illness associated with military operations. He spent a short time with John Mosby on a raid toward the end of the war and as a result was not with his squad when they surrendered at Appomattox. He actually never got a parole but simply went home, refusing to surrender. His love of horses comes through clearly in the book to the point that he actually has a chapter devoted to their suffering during the conflict. This book was initially published in 1908, then again in 1911 and 1914, indicating his writing's popularity. The reader should enjoy spending time with him in this book.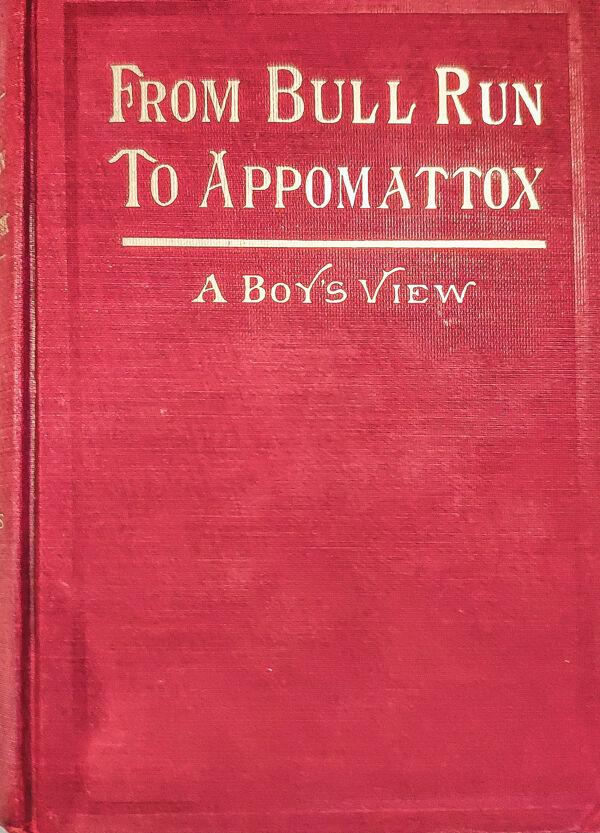 A Rebel Cavalryman with Lee, Stuart and Jackson by John N. Opie is a truly delightful read of Opie's career in the cavalry. The author has an excellent eye for detail and some rather good powers of recall. The reader will find his accounts somewhat opinionated when relating some critical events, but this adds value to the read.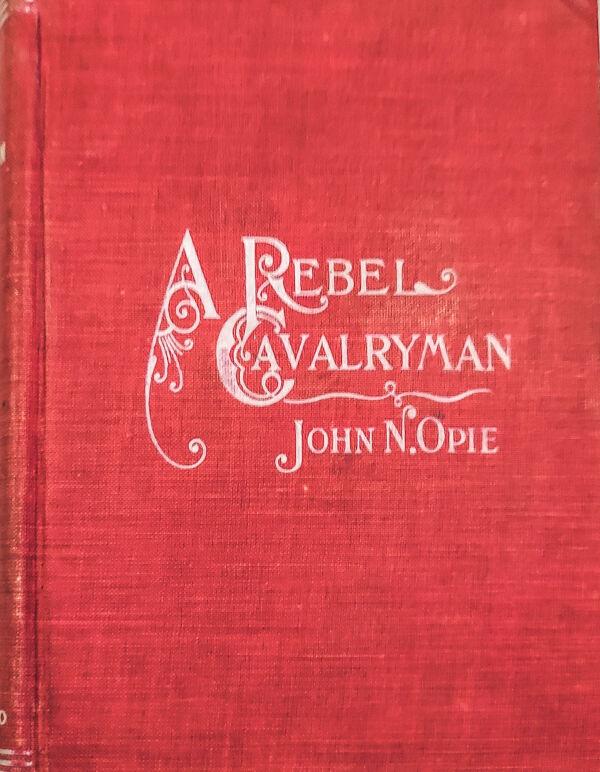 He was also a member of the 6th Virginia Cavalry Regiment's Company I, as was Luther W. Hopkins, so the reader will gain additional insights by reading both accounts.
Opie was captured in the Shenandoah Valley and ended up in Elmira until the end of war. He provides an accurate account of that facility. Originally published in 1899, the book had an additional printing in 1972.
Berry Benson, Berry Benson's Civil War Book. Memoires of a Confederate Scout and Sharpshooter was originally published in 1962. Edited by Susan Williams Benson, the book tells of this South Carolinian's career from the firing on Fort Sumter through the retreat of Lee's army to Appomattox. One of the most fascinating parts of his tale is his capture and imprisonment in Elmira, then his famous escape and return to service. The book covers a lot of the activity of his reconnaissance exploits. The book also details more than just his experiences and provides the reader with a better understanding of the times and mindset of some individuals involved in this conflict. Towards the end, he takes a shot at a Yankee and misses, and in a beautifully, poignant passage, he tells us how sad he is to know that he has taken a last, final shot at the enemy.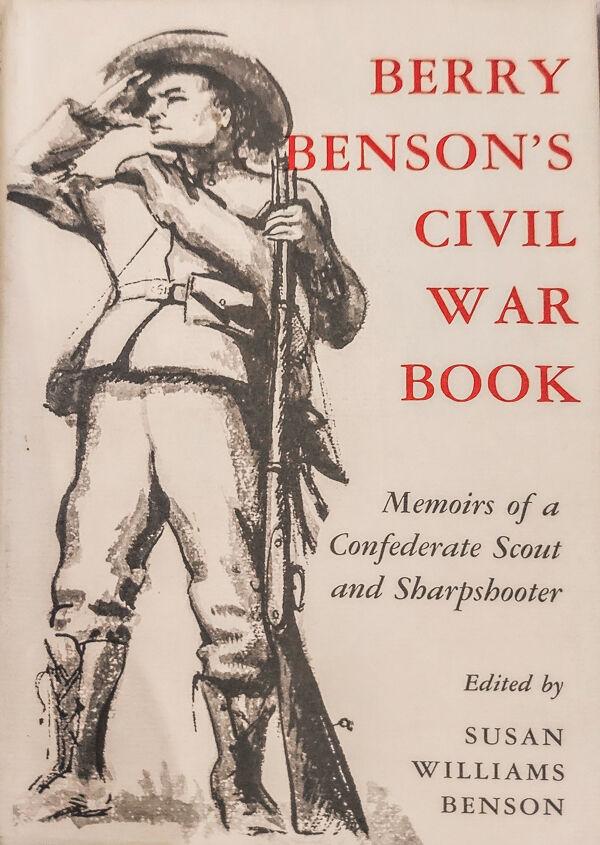 The following book is a western theater offering by Samuel B. Barron, The Lone Star Defenders; A Chronicle of the Third Texas Cavalry, Ross Brigade. In this offering the author brings to life the trials and tribulations of Trans-Mississippi Theater campaigning. He chronicles events experienced by the 3rd Texas Cavalry life in camp through their various campaigns. Based primarily on memory and first published in 1908, it is still an excellent read and probably one of the better memoirs on the Confederates for that area.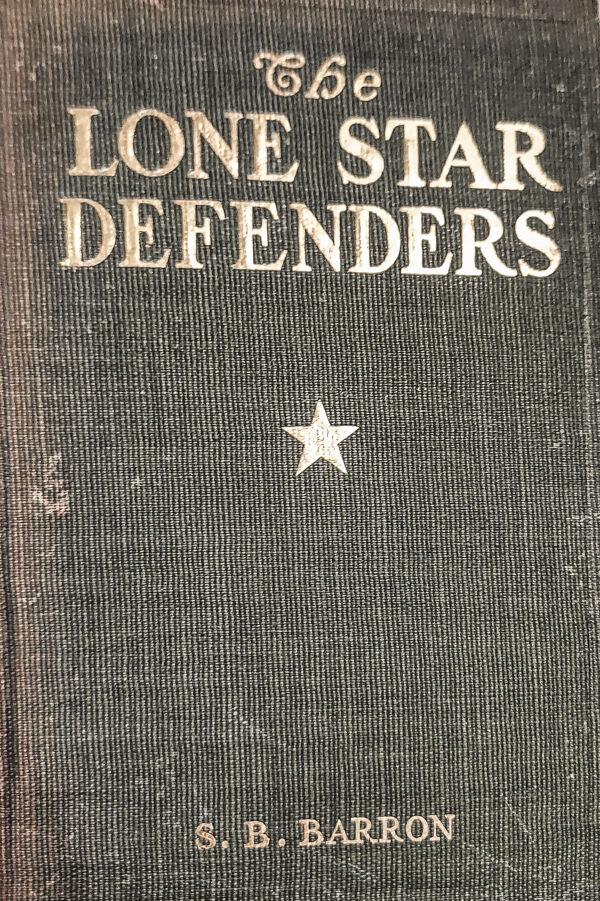 The next book has the same short coming as the S.B. Barron offering in that it was written a half century after the action and from memory; that should not stop any reader from enjoying John M. Hubbard's Notes of a Private. The author was a member of Company E, 7th Tennessee Cavalry in General Nathan Bedford Forrest's Cavalry Corps. Hubbard provides both a refreshing and informative look at their various campaigns. This book was originally published in 1909 with two reprinting in 1911 and 1913, which shows considerable interest in the book at the time of release.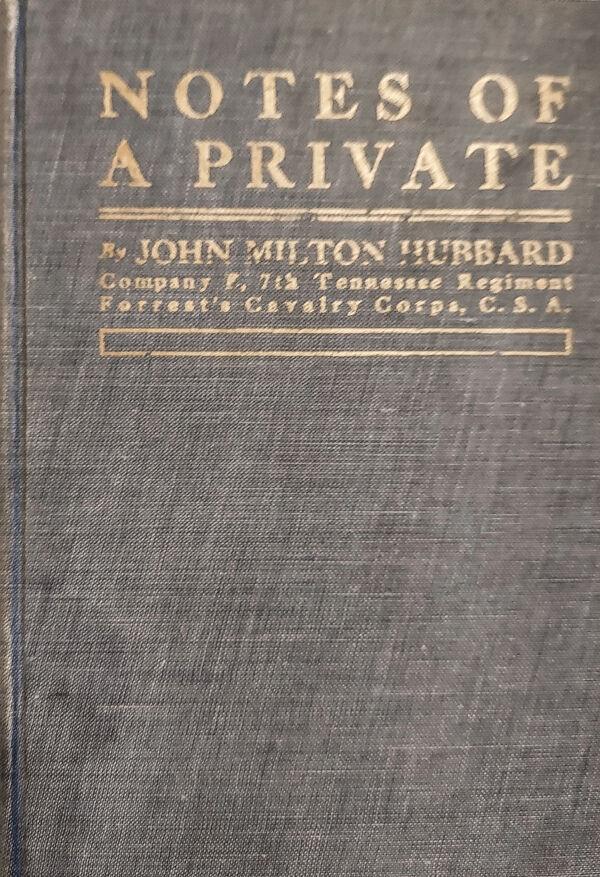 Louis Leon, Diary of A Tar Heel Confederate Soldier was originally published in 1913, but unlike the previous two books, it is primarily diary entries with some elaborations. He began his military career on May 21, 1861, and, like many of his fellow veterans, ended up spending the War's last 11 months as a guest of the Federal Government. His diary contains extensive references to what became almost as important to him as battles during his four years of service, clothing, food, and even sleep. The reader gets to appreciate how these simple things take on great importance for a soldier's survival.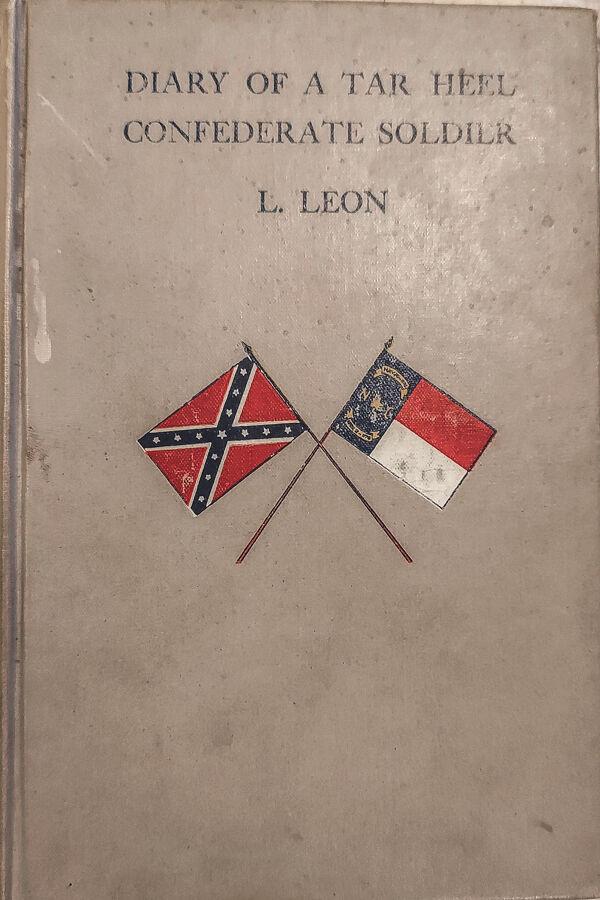 Blood & Sacrifice: The Civil War Journal of a Confederate Soldier, Company B 46th Mississippi is the journal of William P. Chambers. This book is a relatively new publication edited by Richard A. Baumgartner who provides some enumeration and clarification to some the entries but does not take away from the importance stressed by the account's author. The journal covers the period from March 1862 through May 1865; the reader will get a better understanding of both the physical and spiritual strength derived from the author's deep religious convictions combined with his belief in the Confederacy. The author's training as a school teacher comes clearly through in both his writing style and observations, expressing his hopes and fears as the conflict evolves.
One theme that many of these authors mentioned is the importance of religion, especially during the winter of 1863–64 and 1864–65. With this in mind we have included Rev. J. W. Jones, Christ in the Camp or Religion in Lee's Army. Originally printed in 1887, this popular book was reprinted a number of times over the next few years. One reason for this is the subject matter, but the second and probably more important was that Reverend Jones' relationship with, and writings pertaining to, Robert E. Lee. That said, this gives a very interesting and informative overview of religious revivals within the Army of Northern Virginia and provides a better understanding of the importance of religion for the soldier's everyday life. One needs to be mindful however that Jones probably writes like he preached, with the very long flowing and colorful sentences popular during that period. If a reader can handle the sentence structure, this will be an informative and enjoyable read.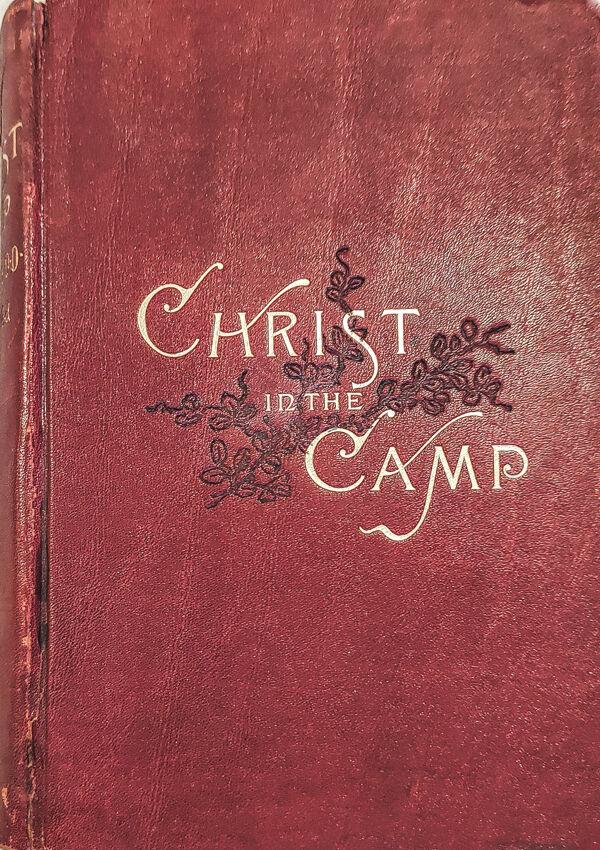 Again, as stated at the beginning, there is no order nor logic to these selections, just random remembrances by the authors during a down period at a Civil War show about some books that they felt needed to be brought back into the forefront of the reading public's consideration. There are some really great books coming out these days, but we just felt that some of the old classics needed to be mentioned and not forgotten. We hope this short list might get you to look at some of these earlier primary source offerings, and we wish you Happy Reading!
Roger Semplak lives in south central Pennsylvania with his wife and four very patient and pampered Bichon Frise who tolerate his reading habits. He occasionally provides insight and critiques to Owens and Ramsey on new Civil War book releases and has provided logistical support to the Owens and Ramsey tables at some major Civil War shows north of Richmond.
Marc Ramsey is co-owner, along with his wife Jill, of Owens & Ramsey Booksellers. For the past 26 plus years they have specialized in the buying, selling, and trading of rare, collectible, and new books on military history, especially Civil War titles, as well as artifacts and paper items. They also provide appraisals for estate planning, charitable deductions, or insurance purposes. The Ramseys send out a monthly direct-mail catalog, and can be seen at many Civil War shows and conferences throughout the year. Call Marc at 804-272-8888 or visit their website at www.owensandramsey.com.