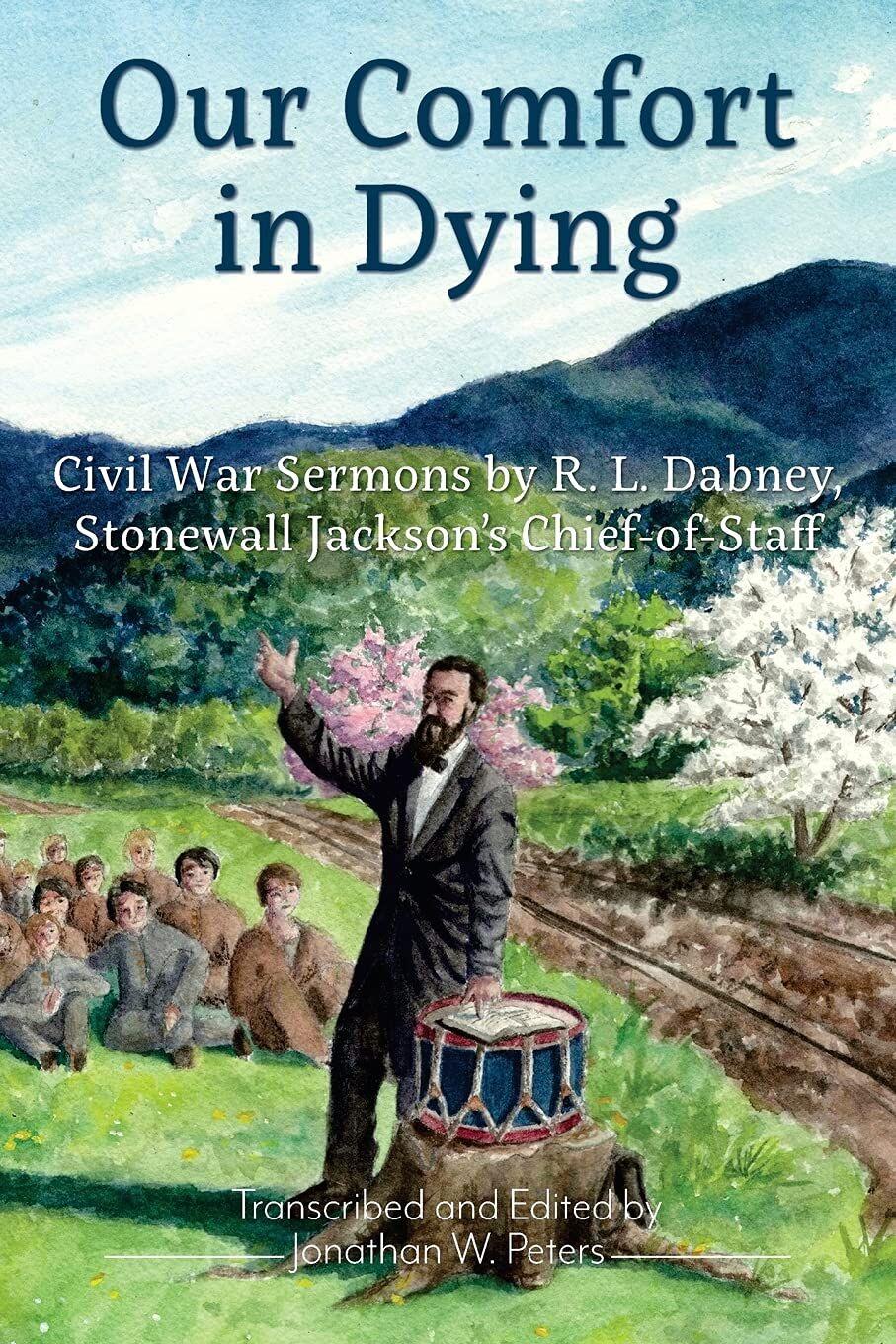 Our Comfort in Dying: Civil War Sermons by R. L. Dabney, Stonewall Jackson's Chief of Staff. Transcribed and edited by Jonathan W. Peters. Photographs, appendices, glossary, endnotes and bibliography. 344 pp. Sola Fide Publishers, Destin, Florida. www.solafidepublications.org. 2021. Softcover. $24.99
Reviewed by Richard J. Blumberg
Robert Lewis Dabney was a "jack of all trades." He was a missionary, headmaster/teacher, professor of ecclesiastical history, and perhaps the best theologian of his time. He also served as a Confederate Army chaplain and General "Stonewall" Jackson's Chief of Staff. During these career pursuits, he also coped with the death of three sons from 1855–1862. These life experiences gave him a wealth of practical, administrative and spiritual tools that were invaluable to the Confederacy.
Our Comfort in Dying: Civil War Sermons is a fascinating and provocative collection of Dabney's teachings. Mr. Peters serves as a laborer of the Reformation Bible Church and Hartford Christian School in Darlington, Md. He did an excellent job transcribing and editing some sermons Dabney preached to the Confederate Army. Editing someone else's work is one of the most difficult aspects of writing. However, Mr. Peters effectively captures the essence of Dabney's preaching style.
The selected sermons not only impacted Civil War soldiers, but impact today's readers as well. Each of Dabney's lessons began with a brief justification of why the lesson is important. This is followed by a description of any lessons/morals learned and how they applied to specific situations. Mr. Peters links various sermons into a cohesive story depicting the every-day life of Civil War soldiers. He effectively captures the emotions of 1) fear and uncertainty; 2) hope; 3) grace, and 4) love. These are the focal points of most of Dabney's teachings. Mr. Peters clearly shows that R.L. Dabney still shines as brightly today, as he did more than one-hundred fifty years ago.
This book is well worth the $24.99 price tag. Excellent research, a detailed bibliography, and numerous photographic images bring Dabney's sermons to life. This work is especially suited for those interested in the spiritual influences of the Civil War. However, all readers will benefit from the excellent life lessons that are covered in this book.
Richard Blumberg has reviewed books for Civil War News for over twenty years. Three of his articles have been published in various issues of Civil War News.