While the history of the American Civil War is an area of great interest to hobby participants there is also a historical piece to the reenactment hobby itself dating back forty to fifty years. In the early 1970s, the Birmingham gun-maker Parker-Hale began selling reproduction Enfield rifles to both reenactors and live fire enthusiasts, or "skirmishers." These are considered among the highest quality reproductions of Civil War-era rifles and rifle- muskets ever produced. The first reproduction Parker Hale Enfields became available for sale beginning in 1972, starting with the 1861 Artillery carbine. This was followed by their Enfield long rifle (P53) in 1974, Naval rifle (P58) in 1975, and later a .451 "Whitworth" target rifle. The P53 was by far the most popular Parker Hale product, and the one most widely used by reenactors. In 1990, the company ceased production of muzzleloaders in England. The Birmingham Parker-Hales are now gone but not forgotten. A bit of background discussion about the history of the Parker-Hale enterprise is in order.
First of all, Parker-Hale was an English commercial gun-maker founded in the Gun Quarter of Birmingham, England, but not until many years after the Civil War ended. Although the name sounds reminiscent of Civil War-era gun-makers in the Birmingham Small Arms Trade, such as Cooper & Goodman, Bentley & Playfair, Tipping & Lawden, etc., obviously, the company never produced Enfield rifles on commercial contract for either side in the Civil War.1 Alfred Gray Parker and Arthur Hale founded the business to provide shooting supplies to the British Volunteer companies and the marksmanship (target shooting) clubs in England beginning around 1880.
Over the years the firm primarily produced small caliber bolt-action target rifles. Parker Hale's Production Manager John Le Breton decided in the early 1970s that he wanted to make a good reproduction of the Enfield black powder muzzle loading rifle, and that he wanted the gun to reflect the exact specifications of original Enfield rifles. He assigned an engineer named Tony Kinchin to the project.
Fellow Civil War News columnist Joe Bilby, an expert on the history of Civil War arms noted, "In an attempt to meet Le Breton's request, Tony Kinchin traveled to the (Royal Armoury) museum at Enfield to record the dimensions of original rifle-muskets and the tooling used to manufacture them. To his delight, the museum director allowed him to take a set of original Enfield master gauges back to Parker Hale."2 What this means is that Parker-Hale copied, almost exactly, from original gauges, the specifications for the machine made P53 British service rifle. This is the so called type IV Enfield manufactured at the Royal Small Arms Manufactory by the British War Department to supply their own troops. This particular version of the Enfield rifle was an improved design over earlier models still being commercially manufactured using individual craftsmen as they had for centuries in both Birmingham and London. The two variations were quite close in overall design, but not exactly the same in detail.
Some variations between RSAF British service rifle that Parker Hale copied and the earlier type III P53 widely used during the Civil War included different stock contours, lock plate screw escutcheons (washers), lockplate engraving, a rounded screw head design, different sling swivels, and barrel bands. There has always been considerable confusion in particular about the front or "top" sling swivel on the Parker Hale, which is offset and does not resemble any Civil War-era Enfield sling swivel ever made. The company decided to make "a minor concession to historical accuracy" and used readily available surplus sling swivels from the World War II-era Lee-Enfield SMLE, which were less expensive than reproducing their weapon with the correct center stud configuration front swivel. This decision by Parker Hale would impact the later Italian-made P53 Enfield reproductions down the road. Ironically, when the Italian reproduction gun makers decided to add an Enfield model to their Civil War product line, rather than copy an original P53 they merely copied the already existing Parker Hale design…mistakes and all.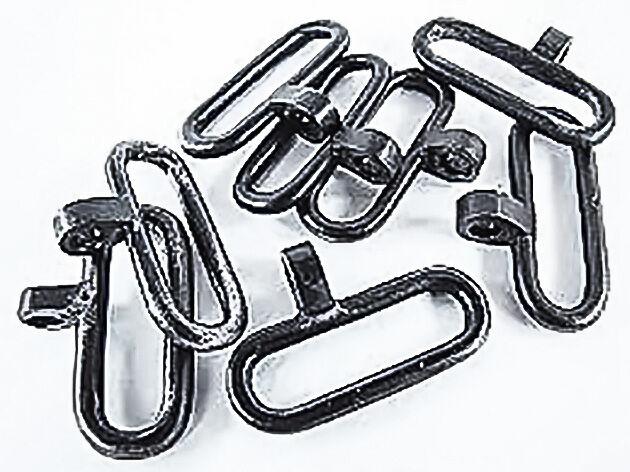 While there were differences between the Parker Hale and original Civil War P53 Enfields, there were also many identical details, for example the barrel featuring a 1:78 twist and progressive depth rifling. The rifling in the period correct .577 caliber bore tapers from .015 at the breech to .005 at the muzzle. All original Enfield long and short rifles manufactured after 1858 featured progressive depth rifling. In addition, Parker Hale used modern manufacturing methods to recreate this old-style rifling. Progressive rifling in Parker Hale barrels was cold hammer forged around a sliding mandrel to insure the proper depth.3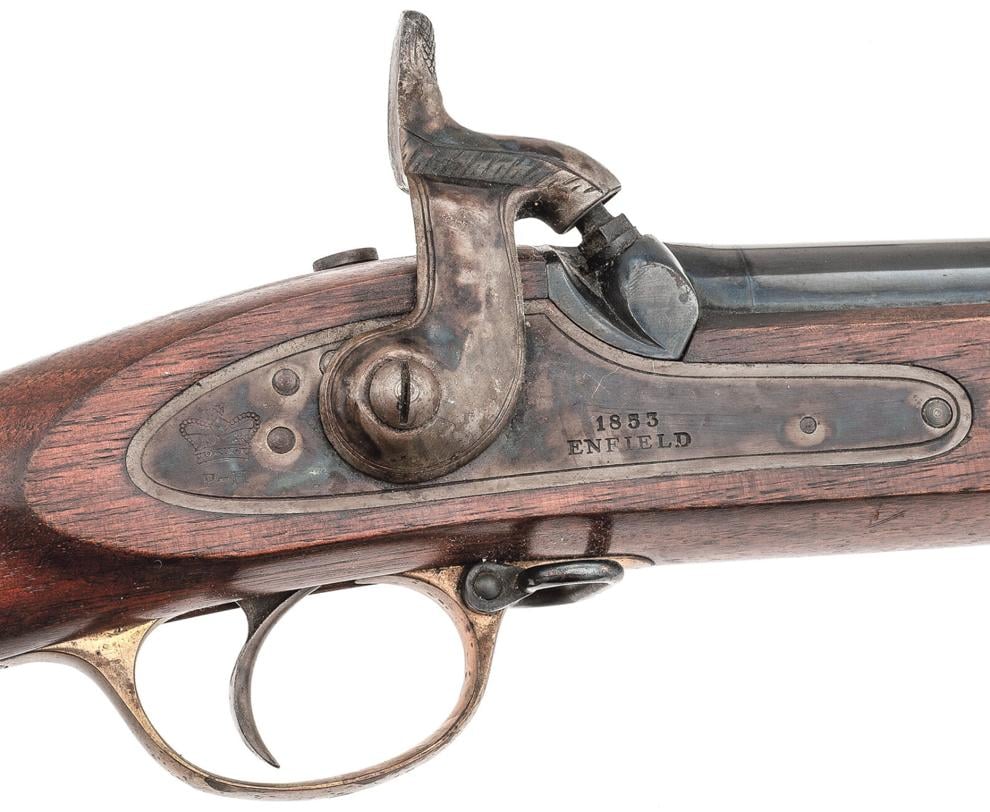 Taking it a step further, Parker Hale lock plates were case hardened through the bone charcoal method, resulting in the unique swirling color pattern. All other modern reproduction locks are not actually case hardened but have a chemically induced surface color that is similar in appearance. The Parker Hale percussion cone uses the same pattern 5/16 x 18 bolster threads as the original Civil War-era Enfield rifles made in England.
Therefore, while the Parker Hale reproduction was very well made, especially when compared to the various less expensive reproductions that followed, and got a number of things right, it was not quite the same as the earlier commercial version most widely used during the Civil War. However despite all that, it was an immediate sales success among both reenactors and skirmishers.
The net result was the Birmingham-made Parker Hale was the best reproduction Enfield available for most of its almost twenty year production run. 
When Parker Hale stopped making muzzle loaders, they sold the naming rights to Euroarms Italia, SrL. For a period of time, Euroarms produced and sold what was essentially their own reproduction Enfield with a Parker Hale barrel labeled "Made in Birmingham" for about twice the price of their other models. These "2nd generation" Enfields were not the same high quality as the Birmingham-made Parker Hales, though they shared all of the same faults.4 Euroarms eventually went out of business in 2011 and there are currently no newly manufactured Parker Hales of any type currently available.
Part of the Parker Hale legacy is that in the void created by their absence, demand for a quality reproduction of the P53 Enfield has remained strong. After Euroarms went out of business, there has been a marked improvement in the form of newly available "defarbed" Enfield offerings from both Italian gun makers Armi Chiappa (Armi Sport) and in particular Davide Pedersoli. Existing 1st generation 'made in Birmingham' Parker Hales in good condition still come up from time to time. If you happen to find one of those, they are well worth the cost. My own Parker Hale P53 Enfield serial number 5556 was over thirty years old when purchased, and virtually in unfired condition. It has since been "defarbed" to more closely resemble a London Armoury produced P53, which it closely resembles since the Civil War-era LA Co Parker Hale was itself a parts interchangeable copy of the RSAF Enfield. An original LA Co 1862 lock assembly was dropped right into the lock mortise and it functions perfectly.
 Endnotes:
Joe Bilby, Colt Six Guns and Parker Hale, www.civilwarguns.com. February 1996.
Ibid.
The Italian made Parker Hale Enfields are easily distinguished by their lock plate markings that read Parker Hale in front of the hammer with no date. The Birmingham-made version reads "1853" over "ENFIELD." Neither one is period correct but besides an early four digit serial number, the lock plate is a quick way to identify a 1st generation Birmingham made Parker Hale.
Armi Sport offers both a defarbed and (believe it or not) what they call a "farbed" version. Their defarbed version has a few of the worst historical accuracy mistakes corrected. D. Pedersoli makes a very good quality reproduction Birmingham Tower 1861 P53 Enfield which is historically accurate pretty much right out of the box. It still requires refinishing with linseed oil, etc.
About the author
Craig L. Barry was born in Charlottesville, Va. He holds his BA and Masters degrees from the University of North Carolina (Charlotte). Craig served The Watchdog Civil War Quarterly as Associate Editor and Editor from 2003–2017. The Watchdog published books and columns on 19th-century material and donated all funds from publications to battlefield preservation. He is the author of several books including The Civil War Musket: A Handbook for Historical Accuracy (2006, 2011), The Unfinished Fight: Essays on Confederate Material Culture Vol. I and II (2012, 2013) and three books (soon to be four) in the Suppliers to the Confederacy series on English Arms & Accoutrements, Quartermaster stores and other European imports.
Want to subscribe to Civil War News, Artilleryman magazine, or the Military Antique Collector magazine? Click here to go to that page.